close X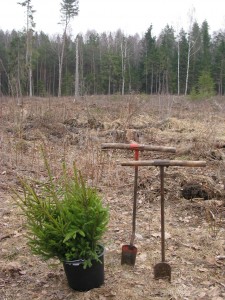 3 methods of forest regeneration
There are three methods of forest regeneration:
Self-regeneration of the forest by natural seeding from nearby trees or from stumps and roots remaining after harvesting.
Artificial regeneration, meaning the planting of young plants and seedlings with the use of machinery or human labour.
Mixed reforestation, which is a combination of the methods above where naturally growing plants and plants resulting from human activities grow in the same area.
During manual aforestation specific tools (e.g. planting swords or spades shown hereby) are used.